Dubai has more than 7 Hundred thousand Malayalam Speaking Residents, most of them are highly skilled individuals working in demanding positions. Due to their work and higher salaries, most of them live with their families and even start their own families in Dubai. An obstetrician/gynecologist has a major role in starting your dream family in Dubai, Most Malayali women prefer to go with a Gynaecologist who better understands them, their cultural values, and behavior. One more thing as an Indian you might go to any Indian Gynecologist who may still understand a lot of common things.
A Gynecologist works closely with other health workers, and especially with a ward midwife, you will find Malayalam-speaking doctors but midwives are mostly Filipinos. An experienced Gynecologist can expect to perform both acute and planned OB / GYN surgery, can handle birth complications such as instrument-assisted births, and handle post-operative follow-up in collaboration with an anesthetist.
| Gynaecologist | Hospital |
| --- | --- |
| Dr. Sagimole Tojichen | Medeor Hospital |
| Dr. Rajalakshmi Srinivasan | Zulekha Hospital |
| Dr. Sreelatha Gopalakrishnan | Orchid Fertility Clinic |
| Dr. Danu Chandradas | Zulekha Hospital Dubai |
| Dr. Geetha Sumathykuttyamma | Al Noor Polyclinic |
Best Gynaecologist in Abu Dhabi
Dr. Sagimole Tojichen
Near Burjuman Metro Station Exit 4 Consulates Area, Sheikh Khalifa Bin Zayed Road, Bur Dubai – Dubai, UAE Directions
In India Dr. Tojichen practices in Many reputed hospitals in Kerela for 5 years after that, she moved to Dubai working here for more than 11 years.  Here Professional memberships are RCOG UK, DHA Dubai, and the UAE Ministry of Health. She received Special Training in Vaginal Surgeries, Diagnostic and Operative Hysteroscopy, and Laparoscopy from India, and her certifications include Basic Obstetric Sonography, Targeted Sonography, and Fetal Diagnosis. She began his career as a Lecturer at the Government Medical College in Alleppey, Kerala, before moving on to become a specialist DNB Trainee at Mother Hospital Kerala. Her time in Kerala brought her closer to the Malayali people. Moving to Dubai she continues to work as a specialist Obstetrician & Gynecologist and Laparoscopic Surgeon at the International Modern Hospital (IMH) Dubai and the Medicare Hospital Dubai in Dubai.
Phone: +97180055
Dr. Rajalakshmi Srinivasan
Zulekha Hospital Dubai, Opp Al Nahda Park – 204th Rd – Al NahdaAl Nahda 2 – Dubai  Directions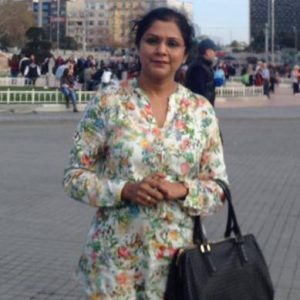 Dr. Rajalakshmi has a highly knowledgeable and experienced background in vaginal and hysterectomies, gynecological oncology surgery, normal and Caesarian section deliveries, and laparoscopic and hysteroscopy surgery. She worked for Apollo Hospital in Dubai and is now an assistant professor at Ramachandra Medical College in Chennai. Without a doubt, Dr. Rajalakshmi gained extensive clinical knowledge during her career, especially while working as an Assistant Consultant and Clinical Associate at Breach Candy Hospital in Mumbai. She Speaks Hindi, English, Tamil, Marathi, Bengali and fluent in Malayalam.
Phone: +971600524442
Dr. Sreelatha Gopalakrishnan
Orchid Fertility Clinic 4016 Block E, Building No. 64 Street No. 15, Oud Metha Road, Dubai Healthcare City – Dubai Directions
Dr. Sreelatha Gopalakrishnan is an Obstetrics and Gynecology Specialist who is currently affiliated with Orchid Reproductive and Andrology Services. She previously worked as a Senior Gynaecologist and Obestician at Manipal Hospital Bangalore. She has great expertise and knowledge which spans a 14-year career in both India and the United Arab Emirates. Her education includes an MBBS from the Govt Medical College Bellary in India, as well as a postgraduate degree from the Rajiv Gandhi Institute of Health Sciences. She has earned many awards for her work in breast cancer awareness in India. Her career in Dubai is also diverse she worked in renowned medical facilities such as Al Noor Polyclinic, Aster Ivf and Women Clinic, Dubai London Speciality Hospital, Medcare Fertility Center.
Phone: +97144377520
Dr. Danu Chandradas
Zulekha Hospital Dubai, Opp Al Nahda Park, 204th Rd – Al Nahda 2 – Dubai  Directions
Dr. Danu Chandradas started his medical education in Kerela's highly renowned Government Medical College, Trivandrum. She completed his postgraduate studies in Specialization in OB/GYN from Amala Institue of Medical Science, Kerala. Her fellowship includes Assisted Reproductive Technology and Miniman Access Surgery.  She gains advanced experience in diagnostic and surgical laparoscopies and hysteroscopies while working as a consultant in Kerela Hospitals. She also performs antenatal development scans as well as gynecological scans. Her expertise also includes treatment and problems related to Infertility in Couples.  She takes the utmost care of her patients. Because of her loving and polite attitude, she has always been a favorite among her patients. She Speaks English, Malayalam, Hindi, and Tamil Fluently.
Phone: +971600524442
Dr. Geetha Sumathykuttyamma
Al Noor Polyclinic – 12th street Roundabout, Behind Bin Sougat Centre – Dubai  Directions
Specializes in Handling of High Risk and Normal Pregnancies. Currently Practices at Al Noor Hospital Dubai. With our 20 years of experience in the Medical Services of Govt of Kerela Dr. Geetha Sumathykuttyamma is committed to the Total Healthcare of new Mothers. She completed his MBBS from Medical College Alleppey and MD. from Kottayam Medical College, India. She is dedicated to providing the most excellent OB/GYN care to Residents of Dubai as well as her own community living in UAE.  She treats her patients with leading-edge, innovative medical techniques, and with personalized medical care for mothers.
Phone: +97142862410
https://www.meddy.com/uae/geetha-sumathykuttyamma/
Al Rashidiya Al Noor Polyclinic