When we arrived in Dubai 5 years ago, one thing you surely could not miss was the air conditioning systems in Dubai. You can find Air Cons in every area where humans do work or just relax, even in basements, storage areas, servant quarters, and guardrooms. The UAE is built on a desert landscape. Huge sandstorms come every year in the dry season. People can not open their windows all the time, otherwise, all of their rooms will fill up with sand. Air conditioning has now become a necessity in Dubai, which is why it is a flourishing business. There are companies that give full solutions for air conditioning and maintenance. Large buildings and shopping malls require a central system that operates via a single large outdoor unit which then supplies cool air to the multiple indoor units.
You can not install and forget about the AC system. It requires regular checkups, cleaning, and maintenance. In my building in Deira, where I worked, we used to have a central AC system of 5 indoor units and only one outdoor unit. We all just started to panic. We called the AC maintenance and duct cleaning service and they just turned off the whole system. The office atmosphere totally changed, we all just started sweating. We could not open the windows because of the hot winds. It took an hour to fix that problem. Our boss again called the AC maintenance company next week and asked them to totally clean the ducts and service each AC unit.
Do you need to Clean your Carpets, Sofa or Rugs then Must visit our pick of Best Cleaning Companies in Dubai
Why it is Important to Clean AC Ducts?
Inadequately maintained A/C and air conditioning create a breeding ground for mold and bacteria, which can make everyone in the room sick. Additionally, pollen and other dust are stored, posing a problem for allergy and asthma sufferers. When the filters are no longer effective, the substance flows directly into the room, causing significant inconvenience to those who are particularly vulnerable. Regular maintenance of AC Ducts can prevent damages to the AC system while reducing the consequent repair costs.
Are you looking for courier companies near your home: Cheapest Courier Services Companies in Dubai
AC Duct Cleaning Cost in Dubai
The service pricing is not the same in the case of AC duct cleaning, it depends upon the area where you living, the number of rooms, AC duct Length, Size of Rooms and condition, etc. But a typical service cost of AC duct cleaning is in between AED 500 to AED 5000 for residential areas. For commercial, the cost is on the higher side usually in between AED 1500 to AED 10000.
Here are some of the costs you need to pay for the cleaning of residential areas, houses, and villas.
| | |
| --- | --- |
| Property Size or Type | Service Fee in AED |
| Studio Apartment | 450 – 500 |
| Single Bedroom Apartment | 650 – 800 |
| Double Bedroom Apartment | 800 – 1000 |
| Triple Bedroom Apartment | 800 – 1100 |
| Inspection (Apartment or Villa) | Free |
Best AC Duct Cleaning Companies in Dubai
Here is the list of the best companies and AC maintenance companies nearest to you in Dubai. Must look for the address which is convenient for you and the service provider. Call them or get directions of the shortest route.
Dubai is Known for Shopping Malls but now its new normal to shop online for Groceries in Dubai:
Best Online Grocery Shopping Supermarkets in Dubai
Adams Care Dubai
Yes Business Center, Opposite to D2 Tower, Al Barsha, Dubai Directions
Their cleaning results are really reliable and the best in a way because they take each step with precautions. They take care of everything. Cleaning ducts doesn't require moving the whole office furniture to another location. You don't even need to move anything. The Adams team will take care of each home accessory you have. They will move them to proper places and cover them to protect them from any debris falling during the process of cleaning. In addition to AC duct cleaning, Adams Care also provides plumbing, electrical, carpentry, and complete AC installation and repair services.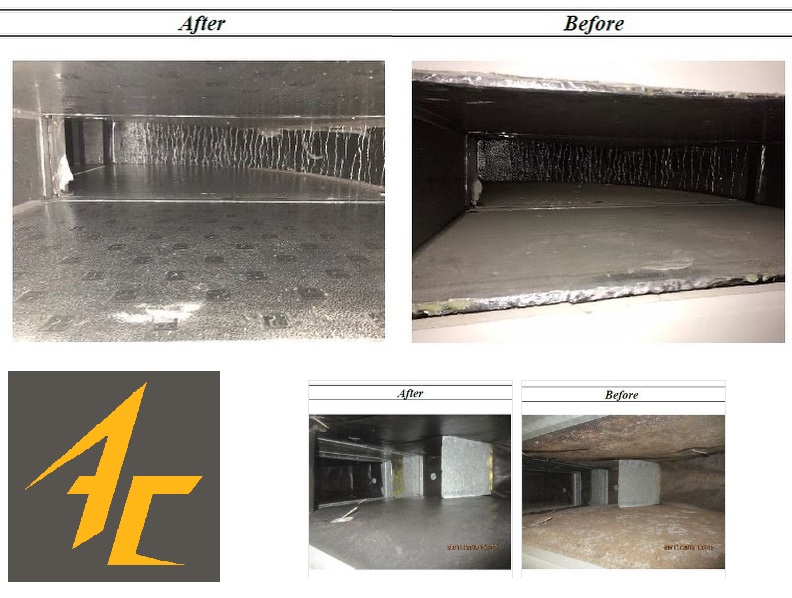 AwalExperts
Abu Bakar Saddique Road Al Bakhit Center – Al Maktoum Rd near Kabayal Deira, Office No. 407- Dubai Directions
Awal is the number one expert in taking care of bacteria, dew, fungus, and other microbes from the AC Duct system. Of all the AC duct cleaning services, you will find AwalExperts has the most advanced HEPA-filtered vacuum cleaners. The use of new technology and germ control solvents will keep the duct safe from re-generating bacteria for a longer time. They have a separate team for inspection which thoroughly checks each AC system. They not only provide a solution but also get rid of the main rooted problem with the AC unit. They have several packages for duct cleaning that range from 600 AED to 1000AED.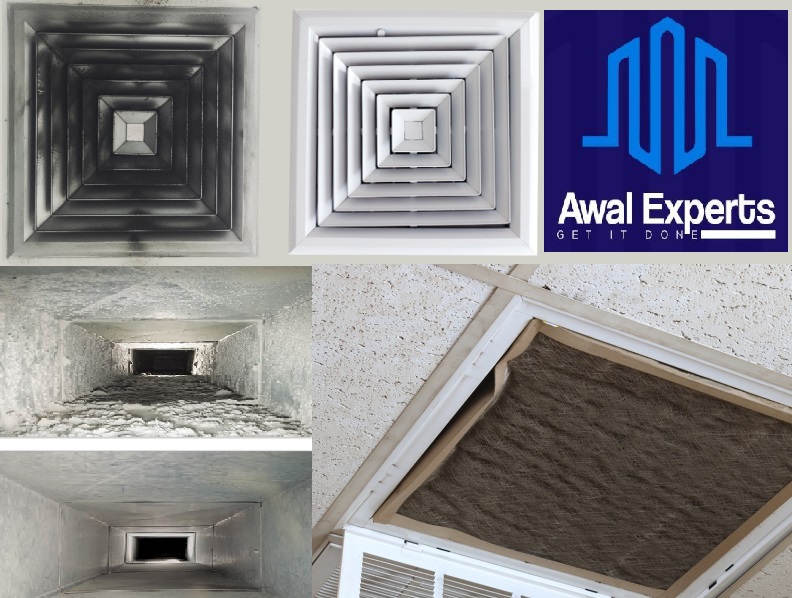 Pro-Clean AC
9th Floor, The H Office Tower – Al Diyafah Street on Sheikh Zayed Rd – Dubai, UAE Directions
Are you moving to Dubai and after renting out an apartment, you come to know that the AC requires maintenance and cleaning. Pro-Clean is highly recommended for new migrants. Don't worry about pricing, they have budget-friendly options available. The team tirelessly works and keeps each area safe from dust and debris. AC Ducts that have not been properly cleaned for many months become a friendly environment for mold to grow. To get rid of them, you need to be an experienced cleaning professional who clears the duct airflow of any old grown bacteria and mold.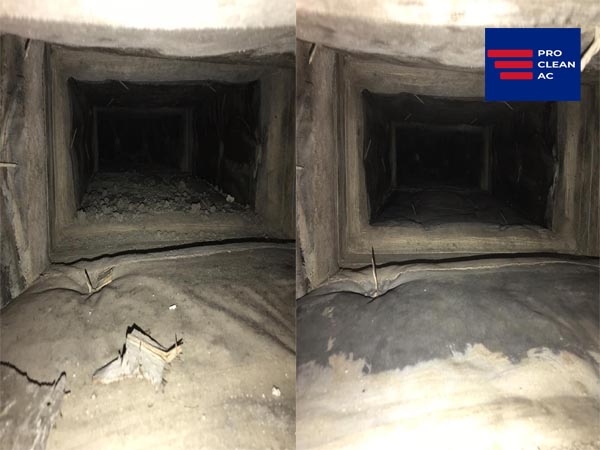 Pro MaxCare Services
Office No.308, Garhoud Star Building, GGICCO Metro Station, Garhoud, Dubai Directions
An ISO 9001: 2015 company in Dubai, started as a conventional sanitization company, has now expanded to other areas related to cleaning services. They have over 20 years of experience in the home, sofa, carpet, and mattress cleaning. Pro MaxCare's extensive experience in providing hygienic solutions to multiple living spaces brings excellence in the area of AC duct cleaning. They will take care of all aspects of AC cleaning, like ducts, coils, blowers to the outdoor unit.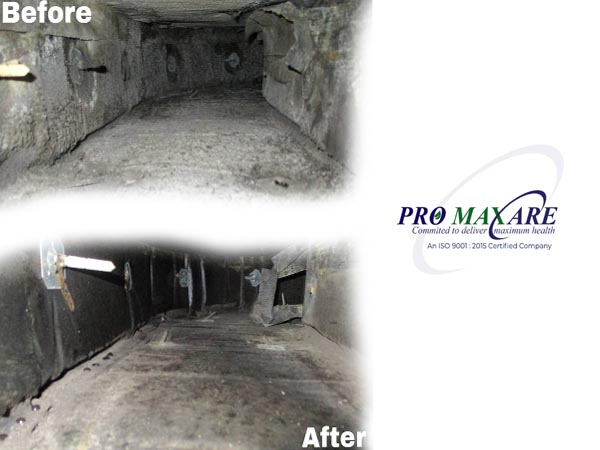 Elite Duct Services
Al Barsha Road Al bedaia building, Near Al Barsha Post Office, Dubai Directions
One of the few companies that specialize only in cleaning of ducts, they can provide you with a whole range of residential and commercial duct cleaning services. They have specialized cleaning procedures for hospital AC duct systems. Hospital HVAC systems have a higher density of airborne pathogens and bacteria that will become a hazard for Asthama patients, so it is highly recommended to service and clean the AC ducts each month.
Enviro Clean
Empire Height Tower A, 9th floor, business bay, Dubai Fountain Street – Dubai, UAE Directions
A UK-based company with highly trained professional staff with years of experience in cleaning services. After successfully performing hundreds of commercial AC cleaning & disinfecting services in the UK, they opened a branch in Dubai in 2015. Their team not only includes expats from Asian countries but also British expats who work with them to give a highly reliable service to their clients. If you are a British or American expat living in the UAE, the company is highly recommended due to their foreign expertise and professional experience.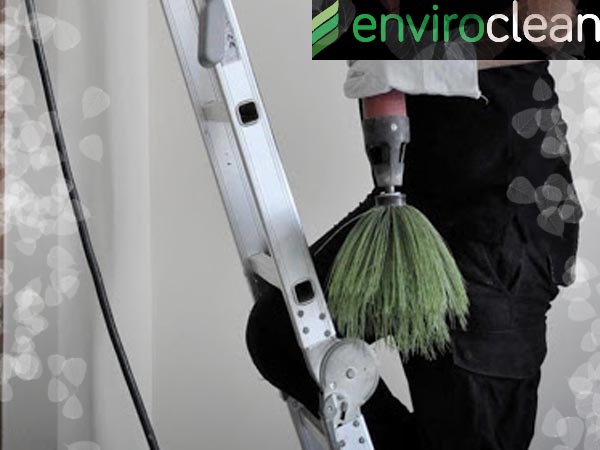 Services:
HVAC Cleaning & Maintenance
AC Duct Cleaning
Carpet & Upholstery Cleaning
Grout Cleaning & Restoration
Contact:
Tanzif Disinfection Services
Abraaj Road, 11th Floor Clover Bay Tower – Dubai Directions
Tanzif provides all kinds of cleaning and sanitization services, including mold remediation, HVAC mattress, kitchen, water tank, swimming pool, laundry, and AC duct, drain line, and kitchen exhaust cleaning. Their staff at work take care of all the things. They protect the home furniture from dust that will be caused during work. The AC duct will become so shiny after cleaning that it just looks like it was newly made. They also disinfect every internal area to slow down the regeneration of mold.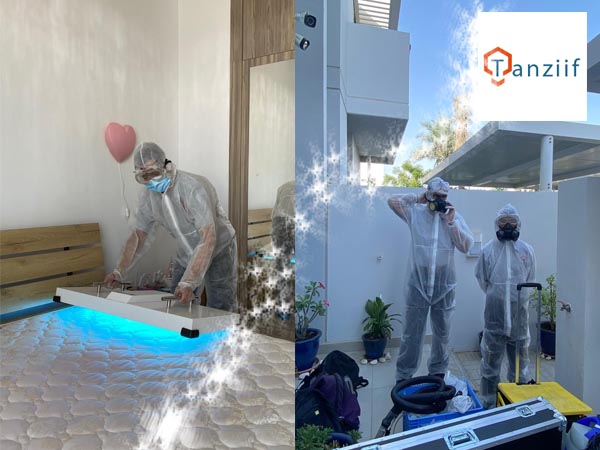 Final Verdict
These are not the only duct cleaning companies in Dubai, I may not able to mention all of them. Due to the huge commercial buildings with a large and complex HVAC system, many duct cleaning companies are present in Dubai, even maintenance companies from the USA and UK also now lands in Dubai to keep up with demand and to grow their business more.