Going for Hydrafacial in Dubai gets the wonderfully fresh treatment that is suitable for dehydrated, dry, tight, sensitive, and acne-prone facial skins. Hydrafacial improves the skin's resistance and makes the skin healthy again.
Why get Hydrafacial Treatment in Dubai?
First of all, Dubai is known for its Massage centers, Skin Clinics, and Luxury Facial Spa experience, people visiting Dubai especially females will don't go without the perfect facial. Other than that The Hydrafacial gives every skin a real boost by combining different techniques in one treatment. It is a wonderful treatment that ensures healthy skin from within.
Reconnect and relax with your lovely sweetheart by getting the Best Couple Massage Package in Dubai.
How Hydrafacial is Done?
It is an all-in-one treatment. It cleans and exfoliates the skin with moisturizing serums, removes dead skin cells and impurities, and through mesotherapy, it delivers a cocktail of vitamins and other antioxidants deep into the skin where they can do their work. Such as stimulating healthy cell division, oxygen uptake, and blood flow, the skin is hydrated and supplied with the right nutrients.
Benefits of Hydrafacial
A true boost for your skin
Improving skin condition
An improved skin texture
Dryness, wrinkles, and fine lines are reduced.
Lifting and contour tightening
Reduction of acne and rosacea
Hydrated healthy skin
Hydrafacial results in immediately visible and tangible, fresh, healthy hydrated skin. If you want to have new and glowing skin, Hydrafacial is an excellent option. It also tends to reduce the visible signs of aging, and the effects last for almost two weeks. As a result, if you're looking for a treatment to enhance the consistency of your skin, Hydrafacial is well worth it. Please get in touch with any of the Clinics and Spa in Dubai if you want to take advantage of the best HydraFacial Packages and deals in Dubai.
The Nova Clinic:

Opposite to Union Coop Society, 1047 Al Wasl Rd – Al Manara – Dubai Directions
Therapists at Nova Clinic produce spotless skin with their Hydrafacial MD Package. The whole Hydrafacial procedure has  6 steps starting from Exfoliation than Vortel Peel, Extraction, Boost, Fusion which ends at extended protection treatment. In Vortex Exfoliation Activ 4 Serum removes dead skin cells to uncover healthy skin. Vortex peel Glysal Serum a mixture of Glycolic and Salicyclic Acids delivers the benefits of a peel without post-peel scaling. Patented, paintless vortex suction cleans out pores with the help of Beta-HD serum. Step four of Hydrafacial Proprietary Dermabuilder is delivered to help effectively address fine lines, skin tone evenness, and texture. Antiox serum is delivered to nourish and protect skin with antioxidants, peptides, and hyaluronic acid. Maintain results at home with Daily Essentials featuring the same ingredients used in the treatment.
Hydrafacial Booking at Novaclinic: 
www.thenovaclinic.com
info@thenovaclinic.com
Phone: +97143845666
Style Age Clinic
Next to Starbucks Unit 504, Block, B, Ibn Sina Bldg, 26th Road- Dubai Directions
Dubai Residents' experience at Styleage clinic has been extremely rewarding at least according to their reviews. All Nurses and Facial experts especially Shiela and  Ms. Michelle are very gentle with their hands and clarified every aspect of the Hydrafacial procedure; nurses ensure that you remain relaxed in a variety of ways. Their deep Hydrafacial package costs 300 AED in which includes cleansing, peeling, toner, microdermabrasion, facial steaming, blackhead cleaning, Caviar Extract, RF, and SPF moisturizing treatment.
Booking at Styleage Clinic: 
styleage.clinic@gmail.com
Phone: +97142402233
https://www.google.ae/maps/search/Hydrafacial+in+Dubai/@25.231202,55.326265,12z
Ivory Aesthetic Clinic
23 B Street, Al Wasl Road, Villa No. 49 – Dubai Directions
They have 3 types of Hydrafacial treatments HydraFacial with Hyaluronic Mask, Deluxe Hydrafacial, and Diamond Hydrafacial. The Hydrafacial with Hyaluronic Mask consists of serums, hyaluronic acid masks, and hydro-peptides, while Deluxe Hydrafacial has some extra treatments like Lymphatic Drainage Massage and LED Light Therapy. The diamond Hydrafacial did in combination with vortex fusion with microdermabrasion. Overall Ivory Aesthetic is quite popular in Jumeirah Area due to their trained staff professionalism as well as calm and relaxing clinic.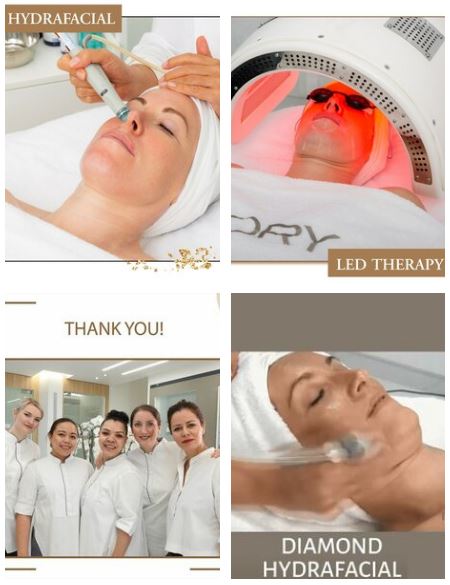 Pricings:
HydraFacial with Hyaluronic Mask: AED 787
Deluxe Hydrafacial: AED 1050
Diamond Hydrafacial: AED 787
Booking at Ivory Aesthetic Clinic
info@ivoryaesthetics.com
Call: 043306464
WhatsApp: 055 678 3783, +97142402233
https://g.page/BioliteUAE?share
OCP Medical Center
World Trade Center Metro Bridge Fairmont Dubai – 621 Sheikh Zayed Rd – Dubai Directions
Residents keep going for Hydrafacial at OCP Medical Center due to their comfortable and highly accommodating atmosphere. The interior of the clinic is well decorated and feels kind of luxurious even in the waiting area.  The Hydrafacial MD treatment keeps your skin hydrated for 2 days, gets rid of acne and grease from the skin, and repairs sun damage. The treatment starts with massaging the skin with rich antioxidants formula and intensely hydrating hyaluronic acid, this procedure provides the ideal skincare solution for the time-pressed.
After 5 sessions of Hydrafacial MD, many people see the visible reduction in dark spots and skin pigmentation. Those who want clear and younger-looking skin see fewer wrinkles after 3 sessions. The skin tightening effect gives a new charm to the skin.
Pricings:
HydraFacial Express: AED 399 f0r 30 Min Duration
HydraFacial Classic: AED 599 f0r 60 Min Duration
HydraFacial Acne Pro: AED 749 f0r 75 Min Duration
HydraFacial Ultimate: AED 999 f0r 90 Min Duration
Booking at Ivory Aesthetic Clinic
appointments@ocp.ae
Call: +97143519933
Derma One Medical Center
Al Sarayat Street, JLT, Lake Promenade Level – Cluster M – Dubai Directions
Derma One Clinic is near Jumeirah Heights west cluster Uptown Dubai and Al Khalil Street. Therapists are well trained and know all about professional Facial Treatment. The product used is of the highest grade material and pricing is competitive as compared to many other JLT Spas and Clinics. The clinic has various treatment options for men also. The Interior of the has clinic a relaxing ambiance, a perfect place for rejuvenating seeking people. Many visitors recommend Their Hydrafacial specialist, Miss Barbara, for highly professional service. The approach to each skin type, passionate and knowledgeable specialist make my treatments pleasant and relaxing.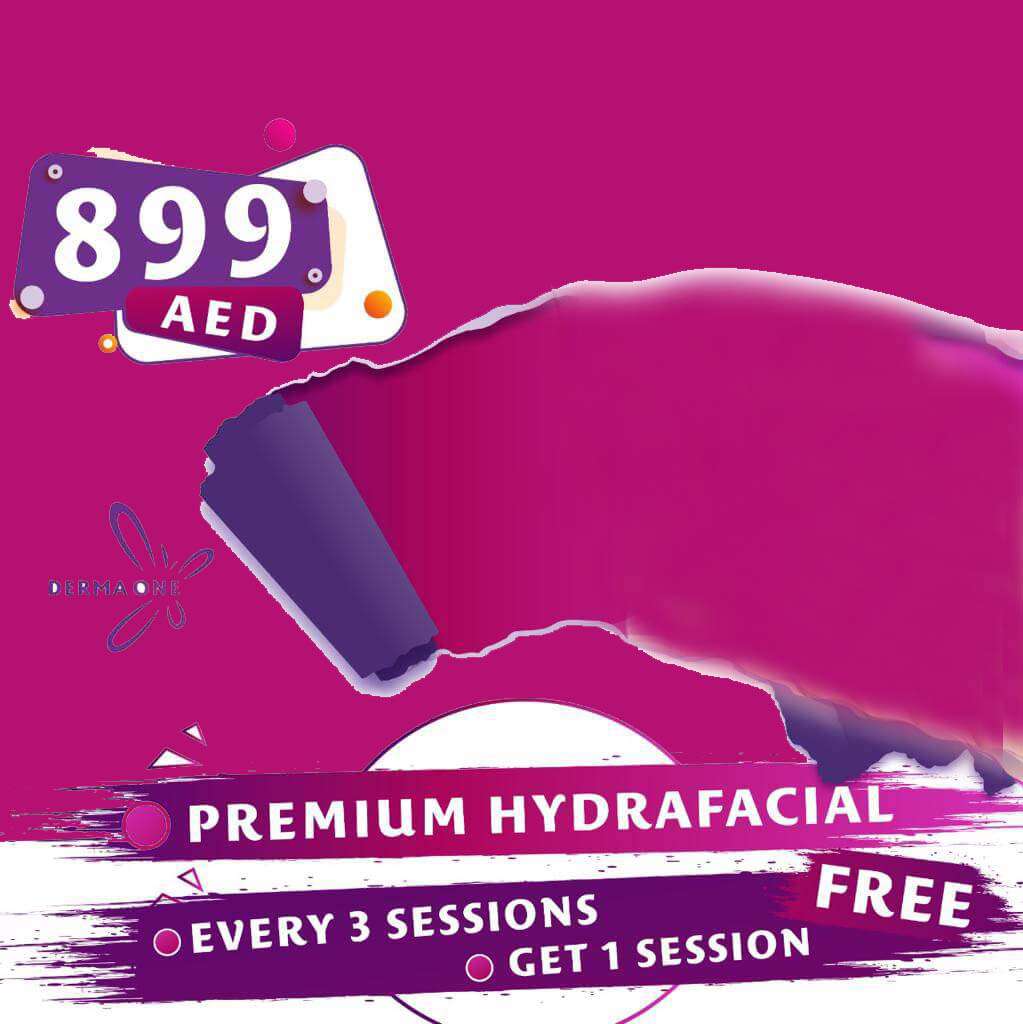 Pricing:
Premium HydraFacial 
Collagen mask, Diamond microdermabrasion, Vitamin C treatment: AED 159
If you place an order for 3 sessions the 4th session will be free: AED 899
Booking at Ivory Aesthetic Clinic
DERMA.ONE.JLT@GMAIL.COM
Call: +971555557231