Professional Laundry services always remain in need especially in cities like Dubai. Residents of Dubai Marina will not get disappointed by the quality of cleaning they get from the highly professional laundry service providers near them. From the moment the garment is received, highly qualified laundry counter staff in Dubai Marina will advise the client, inspect and identify possible stains, and begin a process whose ultimate goal will be customer satisfaction.
First, let see how typical laundry work is done in Dubai Marina laundries. Manual stain removal of the garment: After selecting the most suitable type of cleaning and classifying the garment by color or fabric, manual stain removal is carried out. This allows eliminating substances that cannot be achieved in normal cleaning.
The subsequent process is carried out in our latest generation machines at various Dubai Marina Laundry shops, with suitable solvents and without the addition of water in the additives or reinforcers.  Once the garments are clean, with the bright colors and the soft and fluffy touch, they go to ironing. Highly professionalized staff, irons with the latest technology that allows the exact flow of steam, aspiration and blowing off the ironing tables, use of primer and silicone insoles, allow an exceptional quality in the finish of the ironing of the garment without incurring defects such highlights, double lines, etc.
Looking for Laundry or Dry Cleaning in Dubai Marina?
Searching for the most suitable laundry service in Dubai Marina for your clothes. What kind of service they are providing in their laundry shops or how much it cost for the cleaning of my suit, t-shirt or trouser? Read about which are the best laundry available near to you in Dubai Marina.
Blossom Dry Cleaners
If you are living around Marina Tower or Mag 218 Towers, then you will find Blossom Dry Cleaners is nearest to your location. They have other branches in JBR Walk and in Business Way. Delivery service is available. They have special vans for carrying clients' garments, curtains, duvet covers, pillow covers. Their service portfolio is diverse and includes all kinds of cleaning and pressing.

Rate List of Blossom Dry Cleaners:
| | |
| --- | --- |
| Laundry Service | Charges |
| Suit 2 pc | AED 35 |
| Shirt | AED 9 |
| T Shirt |  AED 7 |
| Trouser |  AED 12 |
| Kandura | AED 12 |
| Track Suit | AED 20 |
| Tie | AED 7 |
| Shorts | AED 7 |
| Socks | AED 3 |
| Undergarments | AED 3 |
| Blouse | AED 10 |
| Jacket | AED 8 |
| Skirt | AED 15 |
| Tops | AED 28 |
Address: Al Khayay Road, Mag 218 Tower Shop No. 2 Dubai Marina, UAE
Timing: Monday to Sunday: 10AM to 10PM | Firday: Closed
Contact: +971 4 4541649 Toll Free: 800 111 222
Website: www.blossomdrycleaners.com
5asec UAE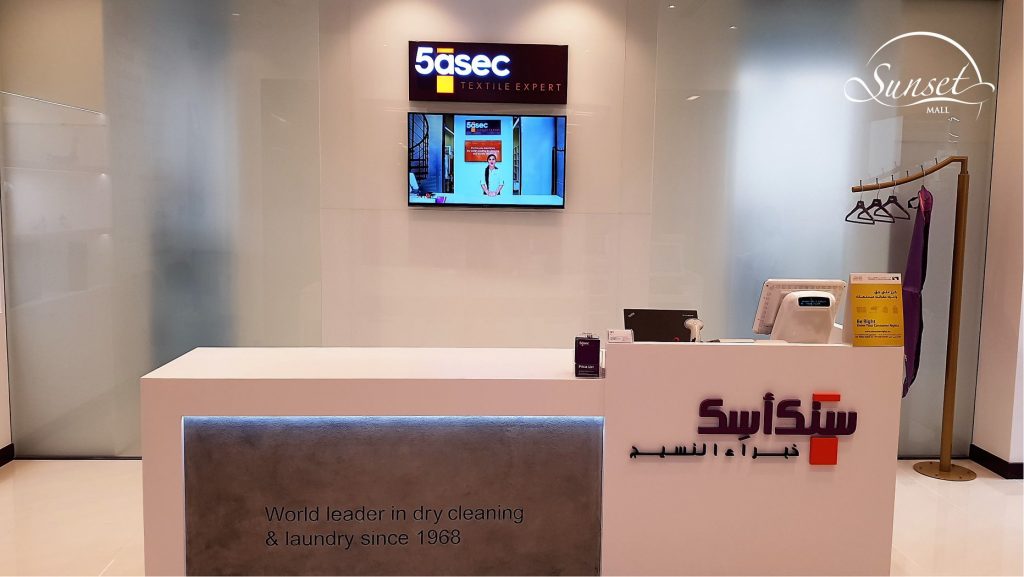 Internationally well know 5asec laundry with a presence in 30 countries is also available in UAE. Recently they launch a delivery service for Abu Dhabi. Not the cheapest option but you will not expect any kind of mishandling at 5asec. Their wash and fold bag cost AED 65 whatever you fit in that bag will be cleaned which is a great option to fulfill everyday laundry needs. Other packages include press only, cleaning with press, and maxima.
Services Price List of 5asec
Laundry Service
Charges
Wash and Fold Bag
AED 65 for 1 bag

AED 165 for 3 bags

AED 250 for 5 bags

T-Shirt Clean and Press
AED 13
Top Clean and Press
AED 15
Polo Shirt
AED 15
Shirt
AED 17
Sport or Beach Wear
AED 12
Shorts
AED 16
Trousers
AED 18
Address: Marina Gate Towers, Marina Gate 1 Opposite to Spinneys- Dubai – UAE
Timing: Monday to Sunday: 8AM to 10PM
Contact: +97180052732, 800 5ASEC (52732)
Website: 5asec.ae/prices
Monarch Laundry
They have a fantastic delivery service for Dubai Marina residents. Getting delivery of cleaned clothes on time is the main factor in best customer service. The staff is professional, quick, and helpful. They will guide you to what cleaning method should go for a specific type of garments. Monarch Laundry has packages that are suitable for getting complete laundry.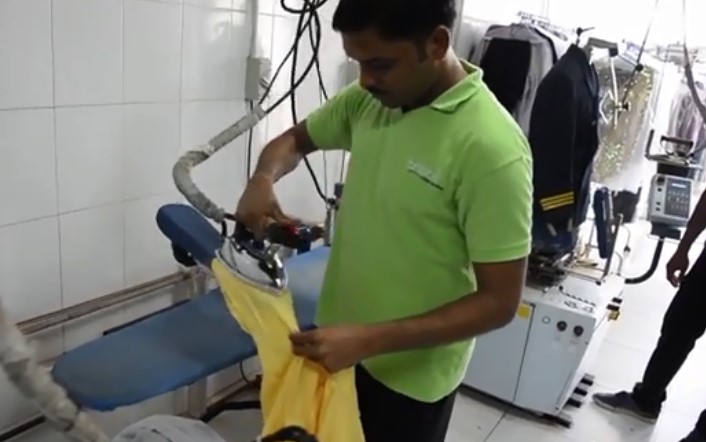 Address: Al Marsa Street near Dubai Marina 1 Metro Station, Dubai Marina, UAE
Timing: Monday to Sunday: 10AM to 10PM | Firday: 2:30AM to 10 PM
Contact: +97144321973
Website: www.monarchlaundry.com
Soap Box Laundry and Dry Cleaning
Located in the heart of Dubai Marina near Marina Diamond 2, SoapBox is well known for its free delivery and 1 to 6 hours express service. Carpet and Curtain cleaning is done with the latest vacuum machines which make them look as you purchase new. You can also buy their weekly or monthly packages in which they charge you far less as compare to regular rates. Their wash and fold prices are AED 25 and AED 45 for cleaning of Socks, Shorts, Sheets, Towels, Gym Clothes, undergarments, and more.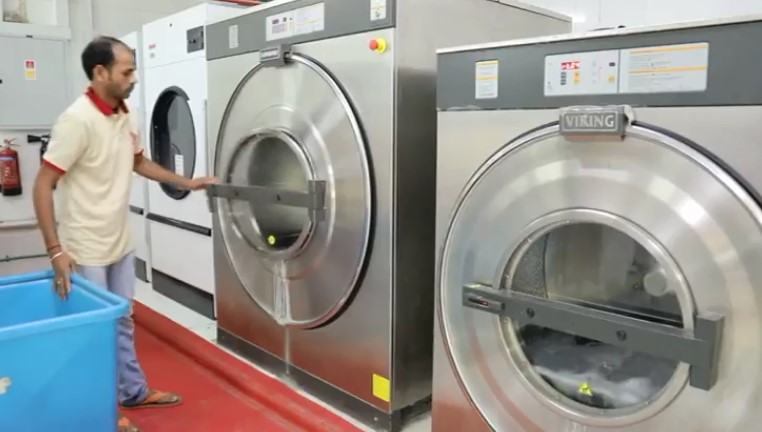 Address: 24 Al Hubob Street Al Zarooni Building – Dubai Marina, UAE
Timing: Monday to Sunday: 9AM to 11PM | Friday: 9:30AM to 12 PM
Contact: +971581046322
Website: www.facebook.com/Soapbox-Laundry-104183201280941
White Laundry
Another premium laundry service in Dubai Marina. They have a unique sense and approach to garment cleaning and pressing. They offer a high standard of care for all types of clothing. With their new generation of washing machines, the customer will get the finest and most detailed cleaning from every bit of corner. They also give package and bundle service Premium Clean & Press treatment of your choice of shirts, blouses, skirts, trousers for the price of 32 AED. Get more information about White Laundry pricing and bundles here.
Address: Dubai Marina Mall, P Level, Al Marsa Street, Dubai, UAE
Timing: Monday to Sunday: 9AM to 10PM
Contact: +971800944837
Website: whites.ae
BNK Bubbles
You can schedule pick up and collection time with BNK Bubbles Delivery boys. Their team go to the location in a van and collect the laundry. If you select express delivery, the clothes will be dropped at your home in just 6 hours. BNK bubble has eco-friendly dry cleaning, steam pressing, delicate washing, and drying solutions. They clean bed linen, carpets, curtains, and towels with excellent quality, all at a decent rate. They really pride themselves on the personal care they give to each item of clothing. All kinds of clothing are handled with expertise by professionals.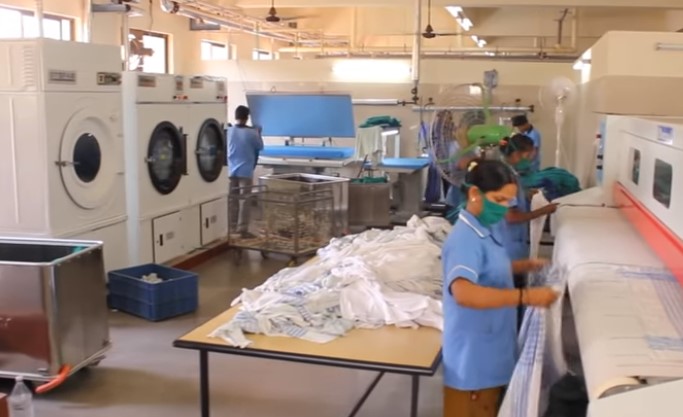 Address: Al Mamsha Street Dubai Marina Walk Opposite the beach market, Dubai, UAE
Timing: Monday to Sunday: 10 AM to 10 PM
Contact: +971561328142
Website: bnkbubbles.com