Nextcare is characterized by long traditions, strong brands, and loyal customers. Nextcare has almost 20 years of experience in the insurance business. Nextcare employs around 1700 people and manages the investments of hundreds of thousands of people across the Gulf. It is a clear market leader in Dubai as well as in UAE and middle east markets. Nextcare actively build a more complete health ecosystem, while onboarding a multi-cultural alliance of healthcare partners, able to navigate the complex healthcare system and attend to the growing needs of our expanding insured members.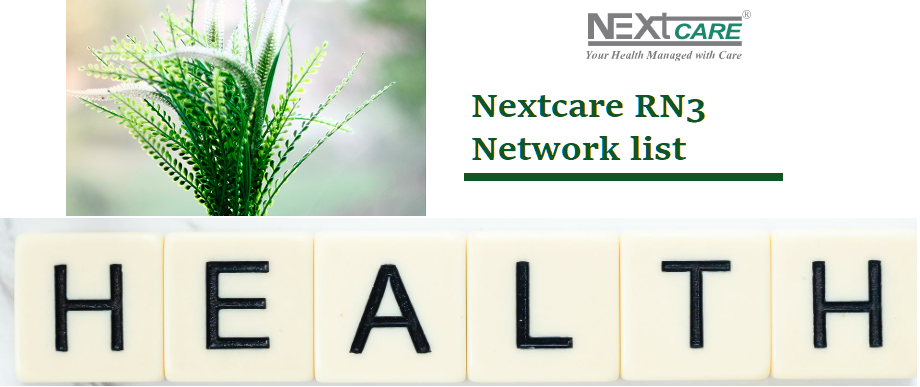 Why Choose Nextcare?
Nextcare are your independent representative for insurance companies. When concluding an insurance policy, we proceed from your needs and wishes in insuring your property or life.
Nextcare helps to compare the prices and conditions of different insurance companies.
Nextcare cooperation partners are all companies operating in the UAE insurance market. In addition, we offer several solutions for cross-border insurers.
In addition to comparing insurance terms and prices, we check that the policy to be concluded meets your insurance needs.
Nextcare take out insurance policies for you and monitor their validity. We will notify you of the expiration of the policy and take care of the timely renewal of the contract.
Our goal is your satisfaction and worry-free claims handling process.
Nextcare RN3 Network list
Nextcare RN3(Restricted Network) Network List includes hospitals clinics and pharmacies. The main features include Worldwide Coverage, enhanced medical network, Inpatient and outpatient, Dental. OP (Clinics) and Territorial Scope of Coverage AED 250,000
Download Nextcare RN 3 Network List