The best Gynaecologist in Sharjah according to patient recommendations and reviews, we develop a list of top 10 OB/Gyne Specialists and consultants working in Sharjah, UAE. A Gynaecologist is a doctor who will take care of the pathologies of the sexual organs but also all the health problems specific to a woman's life and Pregnancy. She takes care of both STIs (sexually transmitted infections), genital malformations, breast, and ovarian cancers. Also pregnancy, childbirth, contraception, menopause, and puberty, medically assisted procreation, etc.
The qualities that are necessary to practice Gynecology and Obstetrician are quite numerous. Working in contact with patients on a daily basis, human social skills are essential. Indeed, being able to show availability, being attentive and open-minded as well as being a minimum of a diplomat are important assets if only to develop certain confidence on the part of his patients. Knowing how to analyze situations clearly and act quickly is important, especially during childbirth. In addition, the latter requires being able to work in a team because Obstetricians surrounded by other professionals such as midwives, nurses, or anesthetists.
Gynaecologist Duties and Responsibilities
Gynaecologist is a specialty with a wide and varied content that understands: the physiological and pathological phenomena of human reproduction, the physiology of gestation, childbirth and the puerperium, as well as its pathological deviations, the physiology, and pathology inherent to the organs that They constitute the female genital tract, including the breast, of the preventive, psychological and social aspects that are necessarily related to the previous sections. Obstetrics and Gynecology specialists are prepared to act, at least in a guiding way, as primary physicians for women.
The Department of Gynecology and Obstetrics is made up of a highly specialized team of doctors, nurses, and midwives to provide the most complete medical assistance services at every moment of a woman's life. It offers its patients comprehensive care that includes a wide range of consultation and treatment options that range from the usual preventive check-up to the most advanced diagnostic and treatment options for obstetric and gynecological problems of all ages.
The Gynecologists in Sharjah offer routine pregnancy monitoring that includes a variety of diagnostic and screening procedures to identify potential problems of the fetus as well as its proper growth and development. With equal care, Gynecologists take care of the mothers' health to detect and treat any maternal complications that may appear. The teamwork allows for the collaboration of specialists to provide the best prenatal, intranasal, and postnatal care possible.
Living in Dubai: Best OB/GYN in Dubai
Best Gynaecologist in Sharjah
Dr. Neeta Warty
Dr. Rabab Mehdi Hilmy
Dr. Zulqarnain Kazim Anjum
Dr. Vidula Sharma
Dr. Reeta Kumar
Dr. Bindu Gopalakrishnan
Dr. Meera Velayudhan
Dr. Neeta Warty
Zulekha Hospital Al Zahra Street Al Nasserya Opp to Al Rahman Mosque, Sharjah Directions
Dr. Neeta Warty is a globally acclaimed and admired Gynaecological Endoscopic Surgeon from Mumbai, India, who is recognized for her detailed and immaculate gynecological dissections and groundbreaking surgeries. For laparoscopic removal of the heaviest uterine fibroid ever recorded in the world, her name appears in the Guinness Book of World Records and the Limca Book of Records.
Her practice is the gold standard in gynecological endoscopy and an example to all gynecological laparoscopic surgeons. She trained a number of laparoscopic surgeons who are now in practice. She has collaborated with world leaders in the area of laparoscopic onco-gynecology and is passionate about research.
Phone: +971600524442
Insurance Accepted
Email: info@zulekhahospitals.com
Dr. Rabab Mehdi Hilmy
Al Zahra St, Al Musalla, Near Clock Tower  Sharjah, UAE Directions
Dr. Rabab earned his MBChB from Mosul University's Medical School in Iraq in 1986, his DGO from Al Mustanseria University in 1995, and his CABGO from the Arab Board of Medical Specialization in Obstetrics and Gynecology (1997).
She did research and wrote papers on "The Effect of Zinc Sulphate on Hyperprolactinemic in Fertile Women in Correlation with the Use of Parlodel Alone in Combination with Parlodel to Enhance the Effect of Parlodel (Prospective Study)" and "Measurement of Serum Zinc as a Predictor in Hyperprolactinemic Women."
Phone: +97165619999
Insurance Accepted
Email: info@nmc.ae
Obstetrics and Gynaecologist NMC Sharjah
Dr. Zulqarnain Kazim Anjum
Zulekha Hospital at Al Zahra Street Al Nasserya Opp to Al Rahman Mosque, Sharjah Directions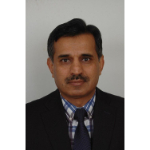 Dr. Zulqarnain is a Gynecologist and Reproductive Medicine specialist with over 21 years of experience. During his service, he collaborated with a number of respected organizations in South Africa and England. Dr. Zulqarnain received his MBBS from Punjab Medical College in Pakistan in 1986 and his MCPS from Pakistan's College of Physicians and Surgeons.
In 2002, Dr. Zulqarnain Anjum was hired as a Consultant Obstetrician and Gynecologist at the Royal Oldham Hospital, where he was heading the infertility services, after completing a two-year residency in reproductive medicine and aided reproduction at St. Mary's Hospital in Manchester. Dr. Zulqarnain has performed both open and vaginal Gynaecological surgery as well as partial access Gynaecological surgery.
Phone: +971600524442
Insurance Accepted
Email: info@zulekhahospitals.com
Dr. Vidula Sharma
Flat no. 101 and 106, King Faisal Street, Thuraya Tower, Near Viva Supermarket  Sharjah, UAE Directions
Dr. Vidula Sharma has extensive expertise (over 17 years) in treating a variety of gynaecological issues, including diseases, menstrual irregularities, puberty, menopause, and infertility-related issues. She participates in cancer screening services on a regular basis. She is a professional obstetrician who can treat for both regular and high-risk pregnancies.
Caesarian sections, hysterectomies, ectopic pregnancies, ovarian cystectomy, and other Gynaecology procedures are among her specialties. She has worked in prestigious institutions such as KEM Hospital in Mumbai, Abha (Tertiary Care) Maternity Hospital in Saudi Arabia, and Zulekha Hospital Sharjah after completing her post-graduate studies at the University of Rajasthan.
Phone: +97165539851  
Insurance Accepted
Email: hmcappointments@gmail.com
Dr. Reeta Kumar
Bin Ham Tower 105, Al Bin Ham, Al Mamzar Area – Sharjah, UAE Directions
Reeta is a professionally qualified obstetrician and gynaecologist with 37 years of practise in the UAE A graduate of the Royal College of Obstetricians and Gynecologists, and manager of Lifeway medical center in Sharjah for the past decade. She is extremely devoted to women's welfare and education. formerly served in facilities like Al Wasl, in Dubai, Poly Clinic in Sharjah, and Corniche Maternity (Abu Dhabi's hospital) Is a specialist in infertility from Germany in In Vitro Fertilization and Intrauterine Insemination, receiving a scholarship in India. Utilizing all relevant expertise and skills within this area for preparing Ultrasound, Laparoscopy, Colpos, and Hysteroscopy healthcare workers
Phone: +97165304900
Insurance Accepted
Email: lifewayspecialized@gmail.com
Dr. Bindu Gopalakrishnan
NMC Medical Center: 2nd Floor, Eisa Building-2, Opp. Rolla Square Park, Near Rolla Bus Station, Al Ghuwair St, Rolla, Sharjah Directions
She has been a gynaecologist for the last 16 years. She e served as a missionary in India for the first nine years of her career. She finished her MBBS from the GMC in Colaba, armed forces college in Pune, and a DGO from Lisie College. In April of 2007, she began working at New Dr. Sunny Medical Center, serve the large expatriate community as well as the local residents. She has been dedicated to the health of both the mother and the unborn child. Over the last seven years, she has treated many patients. Her attention to detail, nursing experience, and timeliness have contributed to many patients getting the best care.
Phone: +97106 5182444
Insurance Accepted
Book an Appointment
Email: rolla.medcentre@nmc.ae
Dr. Meera Velayudhan
NMC Medical Center: 1st Floor, Al Shaiba Bldg, Opp. Carrefour Express Al Nahda, Sharjah, UAE Directions
Dr. Dr.Meera Velu is an expert Gynec from India Clinical Obstetrics and Gynecologist (OBGYN) She graduated from JJM Medical College and MD from Karnataka Medical College. St. George's Medical Center Dubai, Joseph's Hospital Jupiter November to December – Jupiter Polyclinic Fall '17 to '19 (Part-Time) is a nice place Her research interests are fertility, periods, and women's health. She speaks Malayalam and Tamil.
Insurance Accepted
Email: alnahda.medcentre@nmc.ae