Download NAS Reimbursement Claim Form for general medical and dental treatments. Generally, Reimbursement forms are given to obtain first information regarding patient and its NAS insurance details. These personal and banking details then use by hospitals or Clinic to register your claim in the Online system. Make sure to fill it properly and use block letters.
How to Fill NAS Reimbursement Claim Form
In the first column, you need to fill in the details of NAS insurance holder who is a patient, must keep NAS insurance card with yourself and fill it accordingly.
Principal Insured Name
Insurance Card Number of the patient
Patient's name and address
Patient's Date of birth
Employee No/ Staff ID: (If applicable)
Employer's Name (If applicable)
Principal Insured's Tel number (mobile)
Principal Insured's Email address
Nationality
The second column is then filled by the patient's medical practitioner who enter his details as well as treatment given to the patient at that time.
In the third section principle insured person had to fill the charges taken by hospital against outpatient treatments this is important it is good to ask the reception to fill it properly for you.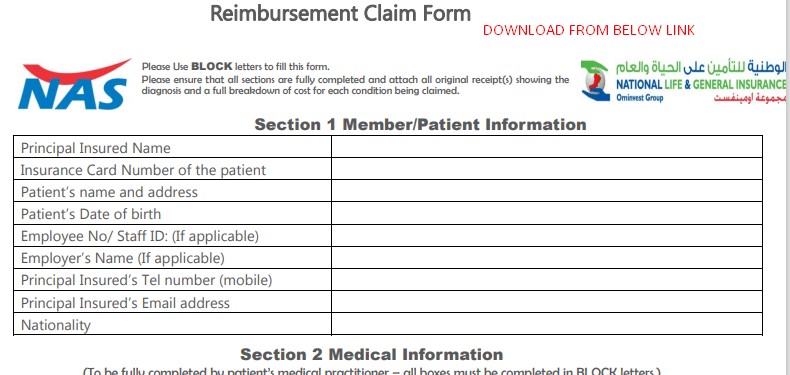 In the settlement section principle insured person must enter its bank details so that any amount refundable he/she give at the time of treatment Reimburse back to his bank account.
Register with MY NAS to query about your recent Claims.
Please submit the medical reports from your treating physician, pharmacy prescriptions, investigations requests and their results, invoices with the itemized breakdown and original receipts. In case of online submission, please retain the original documents as they may be required to finalize your claim.
Original invoices and receipts with itemized breakdown. All Documents must be submitted in English or Arabic, documents in other languages must be translated prior to submission.
b. Original medical report from your treating physician
c. Original or copies of report/result of investigations carried out
d. Complete Reimbursement Claim Form
e. Discharge Summary and copy of prior approval (for inpatient cases only)