Every insurance company makes separate plans or categories for each program, Oman Insurance Company called its Plans DHA which means Dubai Health Autharoty EBP Plans as Oman Insurance company is a participant insurer in the Dubai Health Authorities ISAHD program. DHA plans are specifically designed to cater to the health insurance coverage of every Dubai resident.
The ISAHD program of DHA emphasizes on Access and Quality which includes Everyone in Dubai to be covered by the health plan, member access health service via insurance card, the member must receive health service, insurance provider then obtain e-authorization for advance treatment, the member received advance medical treatment, provider and payer settle medical claims electronically, member access their medical information and connect with providers and payers online, bringing well-being to people.
Oman insurance need to maintain their quality of service in accordance with ISAHD program, each category is made to maximize the health care provided to member. Ejdad indicator is a quality scaling tool developed by DHA which indicate quality and rating for physicians, facilities and insurance companies like Oman Insurance. These information is collected by DHA systems from providers, payers and patients.
By filling simple online application at Oman Insurance Website you can quickly access DHA category 1 and 2 plans for your family members, domestic helpers and employees.
Category 1 DHA Plans:
DHA Plus plans are designed for families and domectic workers under their dependents thier Annual upper limit for healthcare services are 150,000 per insured member per year. DHA plans includes 3 categories:
DHA Easy
DHA Family
DHA Family Plus
DHA easy provides medical insurance coverage to domestic help staff while DHA Family provides important basic covers for families and the top of the line Family plus provides added protection along with all basic covers. The Family and family plus category is recommended for indivitual having salkary more than 4000 AED.
Inpatient services are restricted to DHA Plus Network Hospitals
Outpatient services are restricted to DHA Plus Network Clinics
Get detailed information about Inpatient Healthcare Services and Outpatient Healthcare Services (at designated network hospitals – prior approval is required) for DHA Plus in this document.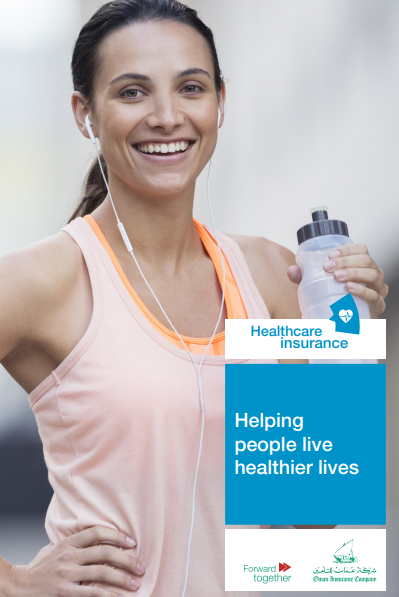 Category 2 Plans for Employees:
Choosing a health plan is an important decision – it protects employees from high, unexpected healthcare costs. Whatever the size of your company, we have carefully designed various healthcare plans to ensure you have the most appropriate solution.
Basic Plan
Basic Cover for lower salary band employees in Dubai Oman insurance are one of the Participating Insurer (PI2) licensed to offer this plan in Dubai.
Enhanced Plan:
Maximum covers at minimum cost suitable for small scale industries and cooparate sector.
Group Tailor Made Plan
Customize your covers and benefit limits to fit your company's requiremen
Category 3 International Plans:
Choose your Plan from a large set of benefits and options including Infertility Treatment, Alternative Medicine, Psychiatry, Health Check-up, Home Nursing, Organ Transplant, Optical,
Dental, Life and much more.
Learn more about Oman insurance Plans for Employees in their HealthCare Brochure.
Product Information – Healthcare Brochure