Are you insured with Oman Insurance or Daman insurance Company in Dubai or Abu Dhabi? Recently hired by the new employer and they ask for Insurance Continuity Certificate also called COC. This document is required by law to produce after changing jobs and every insurance company must issue a Continuity Certificate without any cost. As an expatriate changing job in UAE, you must prepare for several requirements to compile. An employee needs to change various information written on his visa and identity card or even have to transfer a bank account in order to get a salary from a freshly acquired job.
What is Insurance Continuity Certificate?
Your organization should give you this declaration a special certificate when you handover current insurance claim cards. They will simply demand the insurance agency to send COC. All insurance agencies are limited by law to give COC with no charge.
You won't have the option to get Visa stamped in the event that you don't have a Certificate of Continuity from Daman Company in light of the fact that this is required by the new insurance agency to give the insurance cards. The new company is required to obtain insurance for his employees in order to do so they need this certificate. Learn more about Daman Insurance Continuity Certificate
How to Get Insurance Continuity Certificate?
The main thing is Old insurance card held by your current employer, the employee needs to ask his company representative to give him a card or letter for issuance of Certificate of Continuity after that visit local branch of the insurance company and obtain the certificate.
Take the Old Insurance Card of Daman or any other insurance company.
Visit any local branch of Insurance Company.
Collect Certificate of Continuity.
Sometimes your company doesn't know the process of getting this certificate. It is good to ask a new employer for requirements so that the employee can tell his current employer for the certificate and procedure to get this certificate. For Oman Insurance Continuity Certificates.
HAAD Health Authority of Abu Dhabi:
According to HAAD(Health Authority of Abu Dhabi), a Continuity Certificate is only required for employees moving to a new employer in Abudhabi or His dependent is moving to Another employer HAAD sort out several other guidelines for issuance of Medical Insurance to employees working in Abu Dhabi.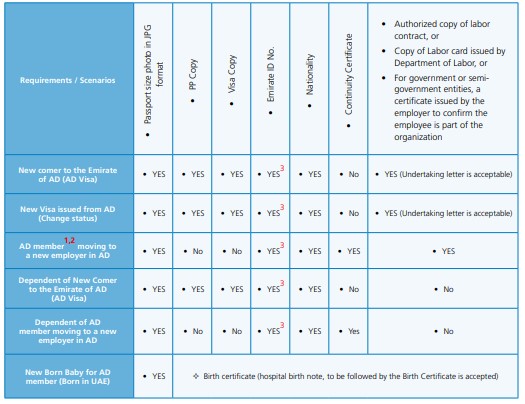 Certificate of Continuity or Format:
According to HAAD the certificate must be included with following information:
 Name of Insurer
Health Insurance policy number
Effective Date of Health Insurance policy
Expiry Date of Health Insurance policy
Policy Type (Thiqa, enhanced, basic, emergency…)
Name of insured
Nationality of insured
Sex of insured: male / female
Date of birth of insured
Authorized signatory (insurance company)
Insurance company seal
Certificate issuance date
The following text: "This is to certify that the person/persons insured under
the above mentioned health policy, is/are covered as per Law No. 23 of 2005
regarding health insurance in the Emirate of Abu Dhabi and its Regulations. This
certificate is valid for 30 days as of the date of issuance."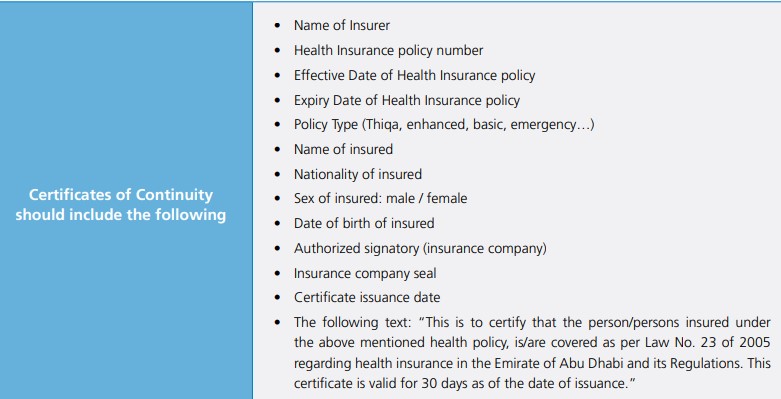 Daman Service Centers:
These Service Centers handles applications for Continuity Certificates: You need to provide your medical insurance cards and other claim documents.
Madinat Zayed Branch
Saeed Bin Humaid Complex B3 Opposite Qatar Al Nada School , Al Dhafra
Sunday To Thursday From 08:00 To 16:00
Daman HQ Building
ADNEC area – Abu Dhabi, Abu Dhabi
Sunday To Thursday From 08:00 To 16:00
Mussafah GEB Branch
First Floor, Global Ascent Centre Next to the SEHA Building Mussafah, Abu Dhabi
Sunday To Thursday From 08:00 To 16:00
Sharjah Branch
Crystal Plaza, Ground floor Buhaira Corniche , Abu Dhabi
Sunday To Thursday From 08:00 To 16:00
Dubai – Sheikh Zayed Road Branch
Capricorn Towers, Sheikh Zayed Road , Abu Dhabi
Sunday To Thursday From 08:00 To 16:00
Daman Central Branch
Airport Road – Opposite Etisalat, Abu Dhabi
Sunday To Thursday From 08:00 To 16:00